For Adults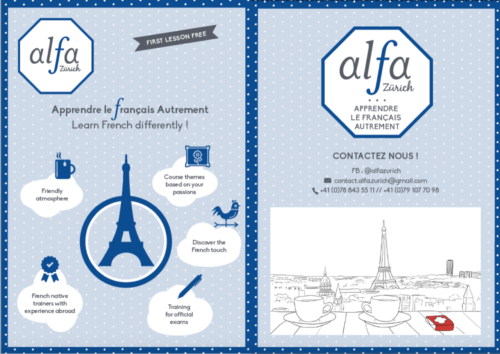 If you wish to learn French in a fun and friendly way
If you wish to to help your children with their homework
If you wish to be able to understand and chat with the LFZ teaching staff
Then you've found the right place !
The team of « Apprendre le français autrement » is welcoming you on Tuesdays 5 min walk from the LFZ
Do not hesitate to come and meet us
from 8:30 to 09:30 AM at NiQo Kunstatelier, Riedgarten 1, 8600 Dübendorf

Any questions ?
Audrey and Cécile will be pleased to help you !
Audrey +4178 843 55 11
Cécile +4179 107 70 98
FB: @alfazurich 
For Kids
Cours de français et soutien scolaire pour enfants !
Newcomer to Zurich and the LFZ?
French is not your mother tongue?
Your kids need French lessons?
Or French is the family language but your kids need a little help for their French homework?
Don't hesitate to contact me if you are looking for French classes for your teenagers or your children. I hold the « French as a foreign language » diploma and I've been teaching for several years in a language school and as a freelance teacher.
Private lessons or small groups for students of a same level possible. 
Page facebook : https://www.facebook.com/enfrancais.zurich
Contact : Isabelle De Dominico 079 651 56 35